Who are we?
SJ Norge is owned by SJ AB, a Swedish stately-owned customer-oriented company, which has operated in Norway for more than a 160 years. During this time SJ AB has offered good train transportation experiences and quality customer service on its own and in co-operation with third parties.
SJ AB is the largest railway operator in Northern Europe and the only one transporting passengers between the three Scandinavian capitals. Around 150,000 passengers travel with SJ on a daily basis.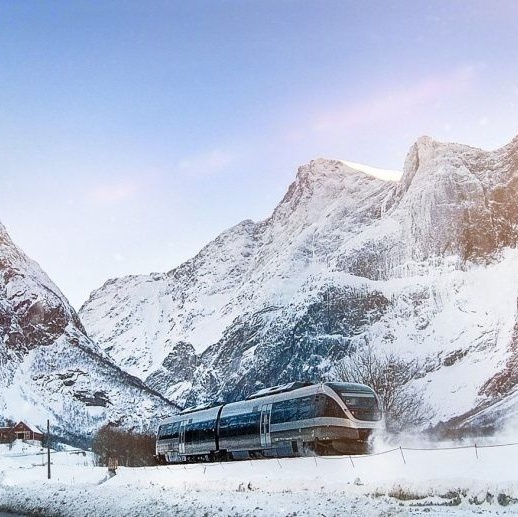 NORD driven by SJ Norge
SJ Norge AS is fully owned by SJ AB and won the train traffick package known under the name NORD in June 2019.
NORD is, in other words, the trademark name for all our seven routes. The first train departed on June 8th 2020 and we will continue to operate the NORD routes until December 2030.
Our routes
Our long-distance routes are the Nordlandsbanen (between Trondheim and Bodø) and the Dovrebanen (between Oslo and Trondheim). The traffick package NORD also includes the strikingly picturesque Raumabanen (between Dombås and Åndalsnes), the historical Rørosbanen (from Røros to Hamar) and our local routes: the Trønderbanen, Meråkerbanen and Saltenpendelen.
Our vision
Our vision is to offer a "journey to look forward to". In order to accomplish this we work towards offering customer-oriented and sustainable train journeys, also in co-operation with third parties. Our goal is to be the best at detecting customer needs and working towards meeting the demand, in order to provide seamless train journeys at competitive prices.
Social, environmental and economical responsibility goes hand in hand in our company. Our purpose is to achieve our goals and make sure that more passengers travel with us and are satisfied with their experiences.
Through consistent efforts we aim to establish SJ Norge as a strong commercial agent in the Norwegian market. We look forward to bringing new experiences to our customer base.
Our values
Everything in regard to SJ Norge shall feel natural and simple. Ticket purchase should feel easy, and so must contacting us in regards to your journey. We aim to simplify your everyday when making decisions on behalf of our customers employees, and partners. Customers should perceive us as reliable, trustworthy and safe. Our passengers should reach their destination on time, and be given all necessary information throughout their journey. Our service aims to be enthusiastic and human – we do transport people and shall treat our passengers with empathy and respect.
Climate smart journeys with SJ Norge
Choosing the train is a simple way to reduce your carbon foot print.
The most important job for us at SJ Norge is to make it easier to travel by train. We aim to help shape a sustainable and climate smart travel pattern in our beautiful country. Our goal is to increase train travel at a faster rate than flying and road travel.
Sustainability directs our work ethic and the direction which the company takes. Below you will be able to read more about our work with sustainability.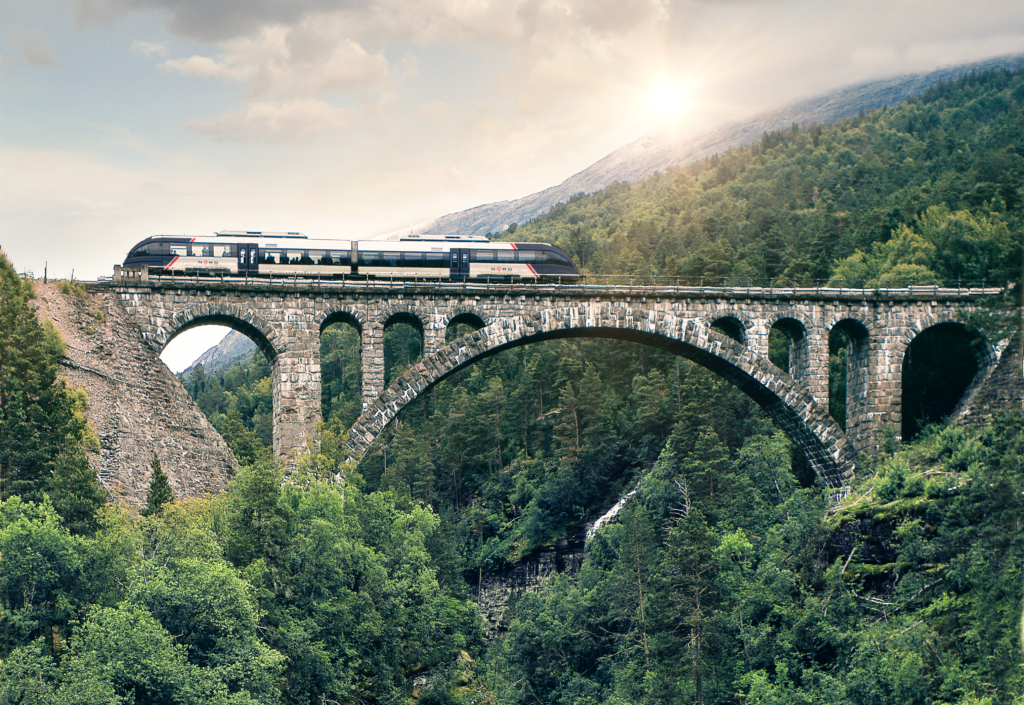 Sustainable food on board
SJ Norge works to facilitate sustainable food and beverages on board. This is reflected in our choice of providers and ingredients. We consistently look for more locally-sourced foods and drinks, and more environmentally friendly packaging. We use local and season-based foods as much as we possibly can and embrace rules and guidelines to help reduce food waste. Our goal is to reduce food waste by 50% within 2030.
Waste sorting on board and eco-labelled products
Our customers are able to sort their waste on board our trains. Our staff is also attentive to this and will be able to help with sorting waste correctly. .
All cleaning on board is as environmentally friendly as possible, and only eco-labelled chemicals are used.
Reducing carbon emissions in alternative transportation
Sometimes unforseen incidents can happen where we are forced to provide alternative transportation. On those instances our third party partners shall use Euro 6 buses as much as possible. Those buses have a much lower carbon emission than older buses.
Train journeys are energy effective
Trains can gather a large amount of passengers, which make train journeys highly energy effective.
The shape of modern trains give less air resistance and help save both fuel and electricity. Additionally, our locomotive drivers are trained in driving as effectively as possible.
Old diesel trains have been replaced with bimodal trains, which can both be powered by diesel and electricity. These has helped reduce our carbon emissions by 30%. The increasing electrification of the Norwegian railway will also help reduce carbon emissions and ensure a greener transportation.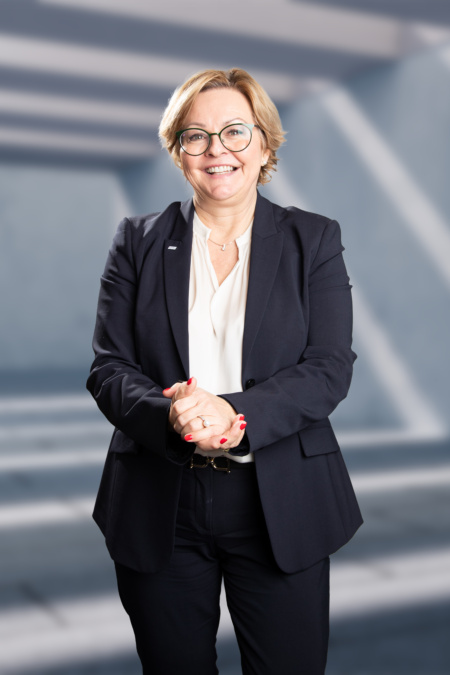 The board and management
Berit Kjøll, Chairman of the board
Rikke Lind, CEO (pictured)
Andreas A. Olsen, CFO
Ronny Reithe, Head of market and service
Philip Brännström, Head of rolling stock
Line Eriksen, Head of HR and training
Steinar Olsen, Head of operations and safety
Geir A. Samnøy, Head of price and distribution