Our best seats
Our most comfortable alternative for passengers who wish to travel in our best reclining seats on the Dovrebanen and Nordlandsbanen. When you travel in a Premium Pluss carriage, you get a more luxurious experience with more services included!
N.B. Notice that our Premium Pluss ticket is marketed as "Reclining seat" upon purchase.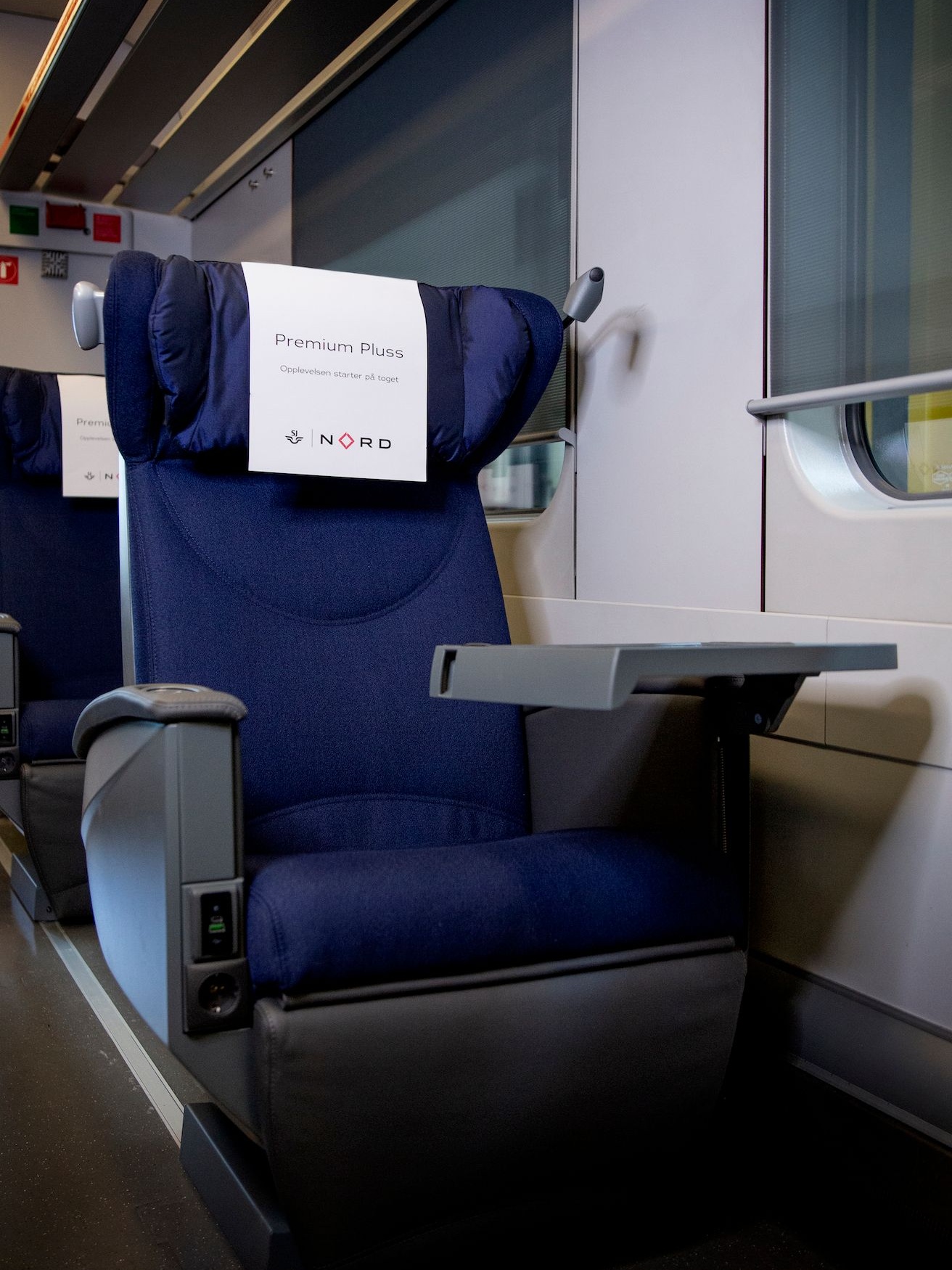 Our reclining seats have the following attributes: 
The seat can be reclined 45 degrees back 
Automated adjustment of the back and foot rest with the help of a control panel
Adjustable head rest 
Dimmable reading lamp that can also be adjusted
Foldable side table 
A regular power outlet on each seat, in addition to USB and USB-C outlets
Low lighting along the aisle for better visibility during the night 
From Oslo S to Trondheim S
• 14:02
• 22:50
From Trondheim S to Oslo S
• 08:17
• 23:17
From Trondheim S to Bodø
• 07:49 (from October 9th 2023)
• 23:05
From Bodø to Trondheim S
• 12:27 (from October 9th 2023)
• 21:10
More services included
As a passenger in a Premium Pluss carriage you will be able to order an assortment of cold meals and beverages from the cafeteria directly to your seat. Our staff will assist you with that.

Additionally you will have free access to water bottles, snacks and hot beverages from the drinks vending machine for the whole duration of the journey.

Working during your trip? You can borrow a comfortable laptop pillow for your lap for increased ergonomy. Just ask your conductor!
Our Premium Pluss tickets
Premium Pluss refundable tickets cost a bit more as they allow changes or even full-refund cancellations until right before departure time. However cancellations that take place under 24 hours before departure will be subjected to a NOK 100,- additional fee.
Our lowest fare for a reclinable seat in a Premium Pluss carriage are non-refundable tickets at a starting rate of NOK 499,-. Non-refundable tickets cannot be charged or given a refund for upon cancellation.