Green travel
The train is one of the greenest means of transport because it can house remarkably more passengers than other forms of transportation, leaving behind only a small carbon footprint. Even trains that are diesel-driven are significantly more environmentally friendly than, for example, an aircraft.
Consider booking a train journey next time you travel. There are many good reasons why it is an excellent idea!

Six other good reasons to travel by train
1. Good use of your time
Not many other means of transport allow you to work, eat, watch a movie or take a nap while you go from A to B.
2. Energy efficient
The aerodynamic shape of the train helps save more fuel and electricity.
3. Less stress:
Go right to your seat without tiresome security checks and just relax all the way to your destination! And by all means, use your electronic devices as much as you desire.
4. Sustainable products:
Our food is locally-sourced, environmentally friendly packed and our cleaning products are eco-certified.
5. Fantastic views guaranteed:
Your train ticket includes magnificent mountain views right outside the window!
6. Location, location, location
Train stations are conveniently located in the center of every town and city.
How much CO2 is released?
Grams per CO2-equivalents per km per passenger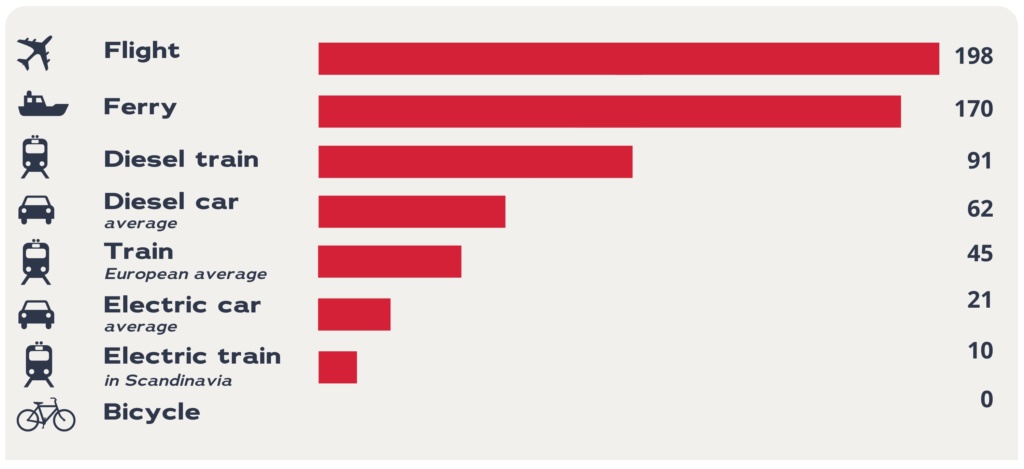 Electric trains than run through Scandinavia, and more specifically in Norway, run with a hundred percent renewable energy coming from hydroelectric power. This means that the electricity that powers the trains is produced without any carbon dioxide emissions and is therefore a very clean energy source.
Find inspiration for your next journey!